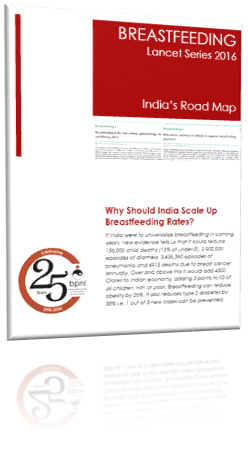 On 29th Jan the Lancet published a new Series on Breastfeeding ((http://www.thelancet.com/series/breastfeeding). It presented new evidence on the health and economic benefits of breastfeeding proving short-term and long-term health, economic and environment advantages to children, women, and society.
If India were to universalize breastfeeding in coming years, new evidence tells us that it could reduce thousands of child deaths and episodes of diarrhea, pneumonia annually. Also, a 3 point increase in IQ of all children, rich or poor has been reported.
Among the long- term health benefits breastfeeding can prevent 1 out of 3 new cases of type 2 diabetes (35%), and can reduce obesity by 26%. It can also help in reducing 4915 deaths due to breast cancer annually in women.
Taking on from the Lancet series BPNI /IBFAN Asia have come up with a document titled "Breastfeeding Lancet Series 2016: India's Road Map".
The document provides India specific future plan of action and investment estimates for breastfeeding interventions on scaling up breastfeeding rates to realize these gains.
We wish to reach every policy maker, govt. official, and civil society group and program manager working in the field of child health and nutrition through this document, because investing in breastfeeding interventions has the potential to save lives and everyone can contribute!
We are happy to share "Breastfeeding Lancet Series 2016: India's Road Map" with you!
Download : http://bpni.org/Advocacy/BF-Lancet-Series_India-Road-Map2016.pdf
LANCET BREASTFEEDING SERIES 2016
1 : Breastfeeding in the 21st century: epidemiology, mechanisms, and lifelong effect- Cesar G Victora, Rajiv Bahl, Aluísio J D Barros, Giovanny V A França, Susan Horton, Julia Krasevec, Simon Murch, Mari Jeeva Sankar, Neff Walker,Nigel C Rollins, for The Lancet Breastfeeding Series Group*, January 29, 2016
2 : Why invest, and what it will take to improve breastfeeding practices?- Nigel C Rollins, Nita Bhandari, Nemat Hajeebhoy, Susan Horton, Chessa K Lutter, Jose C Martines, Ellen G Piwoz, Linda M Richter, Cesar G Victora, on behalf of The Lancet Breastfeeding Series Group* , January 29, 2016
The series refers to IBFAN initiatives such as World Breastfeeding Trends Initiatives (WBTi), World Breastfeeding Costing Initiatives (WBCi) and the Report on Carbon footprints titled "Formula for Disaster" (Please see links below)
Linnecar A, Gupta A, Dadhich J, Bidla N. Formula for disaster: weighing the impact of formula feeding vs breastfeeding on environment. BPNI/IBFAN Asia, 2014. http://ibfan.org/docs/FormulaForDisaster.pdf (accessed Nov 26, 2015).
Holla-Bhar R, Iellamo A, Gupta A, Smith JP, Dadhich JP. Investing in breastfeeding—the world breastfeeding costing initiative. Int Breastfeed J 2015; 10: 8. http://bpni.org/Article/IBJ-Investing-BF-article2015.pdf
Lutter CK, Morrow AL. Protection, promotion, and support and global trends in breastfeeding. Adv Nutr 2013; 4: 213–19.http://bpni.org/Article/Lutter-and-Morrow-Protection-Promotion-and-Support-of-BF.pdf